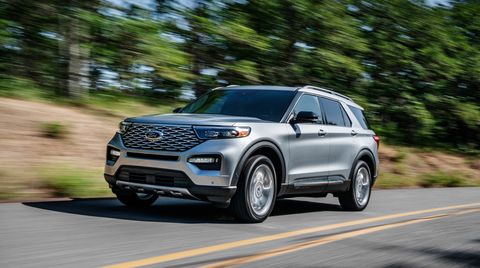 Are you looking for the best SUV for sale near Hot Springs? Look no further than the 2020 Ford Explorer at Southwest Ford Lincoln in Arkadelphia, just a short drive away from Hot Springs. The 2020 Ford Explorer is the SUV's most powerful, capable and attractive model yet. The 2020 Ford Explorer gets great gas mileage and has an extremely comfortable interior - making it the perfect SUV to use for road trips outside of Hot Springs. With big-city prices and small-town service, Southwest Ford Lincoln near Hot Springs, just a short drive away in Arkadelphia, is the perfect place to check out the 2020 Ford Explorer.
The 2020 Ford Explorer is built to impress with a completely new design - both inside and out. The 2020 Ford Explorer's interior is purposed to impress all your friends in Hot Springs. It features comfort and luxury, but not too much so that you feel overwhelmed. Heated leather seats help you to relax in style as you travel, while a redesigned hex dash will never get boring on a long road trip. Easy-to-fold rear seating means you can carry heavy cargo when you need to and your most precious cargo when you don't. Interior technology such as an 10.1-inch touchscreen infotainment system will keep you entertained on your travels, while safety technology such as reverse and forward automatic braking assist, adaptive cruise control and lane keep assist will keep you safe in an emergency.
In terms of capability and performance, the 2020 Ford Explorer is one of the best in the market. Trips in and around Hot Springs will never be the same once you sit in the driver's seat of this stellar SUV. All-new rear-wheel drive maximizes the SUV's performance and allows for a sportier design. Available Intelligent 4WD and Terrain Management System allows for the 2020 Ford Explorer to adjust to your conditions, allowing you to drive in almost any conditions. Bring whatever you need to along for the trip, as the 2020 Ford Explorer has great towing capabilities. With trailer-sway technology, you never have to worry about what your SUV is hauling - you can work with peace of mind.
As you can see, the 2020 Ford Explorer is the perfect car for the Hot Springs area. It is stylish, comfortable and capable, something that will make all your friends in Hot Springs highly jealous. With Southwest Ford Lincoln being just a short drive away from Hot Springs in Arkadelphia, there is no better place to shop for your next SUV. The 2020 Ford Explorer is available at the best prices anywhere near to Hot Springs, and Southwest offers the hometown service that you've come to value. We have a great finance department that can fit the 2020 Ford Explorer SUV into any budget, so make the short drive in from Hot Springs today and see the Southwest Auto difference.