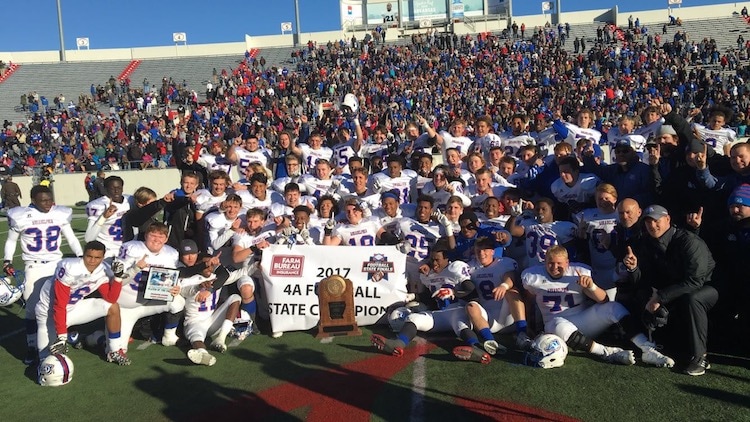 If one thing can be said about of Arkadelphia, it is that it is a football town. The Badgers won their first state championship in thirty years last November, and the Great American Conference crown has only left the town once in the past seven years. With recent successes on the gridiron, who's to say that the success won't continue into the fall? It's said that these summer months are where championships are won. The players are hard at work in the weight room and on the field - perfecting their fundamentals and fine-tuning their minds to the coach's preferred schemes. So, while the players are working hard to bring more championships to our small town in November, the football (and car) experts here at Southwest Auto Collection are going to speculate as to how these teams are going to perform come August. Next up: the Arkadelphia Badgers.
The Badgers are the team that can bring everyone in Arkadelphia together -- regardless of whether you're a Tiger or a Reddie -- and they're a mighty good team at that. The Badgers brought excitement to the town last season as they finally won the state championship after years of flirting with the ultimate success. Coach JR Eldridge is back this year and he returns many of the key players from last season's state-winning team. Of course, there are a few players missing, but with seven mercy-rule wins last season, the underclassmen received more than enough experience to step up and play key roles in the Badgers' title defense.
The Arkadelphia team all starts with the backfield. State championship game MVP Cannon Turner returns for his junior season at quarterback. With two starting seasons under his belt, Turner already has more experience than most starting quarterbacks around the state. Last season, he threw for 1071 yards and 11 touchdowns while also running for 1000 yards and 11 touchdowns. The dual-threat playmaker is joined in the backfield by senior running back Zion Hatley. Hatley was the Badgers' leading rusher last season with 1679 yards and 34 touchdowns. He averaged 8.2 yards per carry and a touchdown every six times he touched the ball. Hatley currently owns scholarship offers from UCA and OBU. The two star men's efforts last season wouldn't have been possible without their all-senior offensive line that Eldridge will now be tasked with replacing. The majority-sophomore backups looked capable when placed in the game during mercy-rule situations, but now as juniors will have to step up in the weight room during the summer and play consistently during the fall to aid the Badgers in reaching their full potential as repeat state championships.
Aside from Turner and Hatley, the Arkadelphia still has quite a few playmakers. Senior wide receiver Alec Ruble led the Badgers with 5 receiving touchdowns last season and excels with sure hands and an impressive blocking ability. Returning contributors Javonte Brown (6'3") and Logan Becker (6'2") give Turner big receiving targets. Finally, upcoming sophomore Buster Thomas showed signs of electric playmaking ability in limited gametime last season after moving up from the junior high team. Thomas was used as a quarterback in junior high, but will likely split his time between receiver and running back in varsity, playing a role similar to that Logan Lucas played on last year's team. Arkadelphia's wealth of returning talent in skill positions gives them a good chance to continue the offensive dominance they produced last season.
As dominant as Arkadelphia's offense was last fall, the Badger defense was even more impressive. The team did not concede a single point until its fourth game last season, and only allowed an average of 11 points per game over the course of the season. Four starters depart from last season's squad, but key players return at every level of the unit. Defensive linemen Ricky Rogers Jr. and Lorenzo Lawson were key to the Badgers' success last season, and both look to return for dominant junior seasons. Senior linebacker Josh Wallace was the Badgers' leading tackler last season with 77 total tackles, while junior linebacker Kyron Harrison was an all-state performer with 73 tackles and three fumble recoveries. Returning to the secondary are seniors Victory Tademy and Carlos Haynie. Tademy had 41 tackles and six interceptions last season as the Badgers' lockdown cornerback, while Haynie 38 tackles and two interceptions. The Badger defense didn't skip a beat when rotating younger players last fall, so players such as Keaundre Dawson, Jayson Campbell, Ethan Savage and Cole Turner should be ready to contribute to a stout defensive unit this season.
After playing the same teams for the past four seasons, the Badgers' non-conference schedule is shifting to more difficult opponents this season. The team will open by hosting Sylvan Hills and Benton, both of whom are 6A opponents, before traveling to Wynne, a team that went to the 5A semifinals last season, for its final non-conference game. Following the non-conference slate, the Badgers will get a bye week to prepare for rivals and perennial conference title challengers Nashville. The difficult non-conference schedule should prepare the Badgers for a rigorous battle for the 7-4A title between themselves, Nashville and Robinson. If the Badgers' players are focused and continue to improve upon their ability demonstrated last season, there is no reason why they cannot win the conference championship and push for a second consecutive state championship.
We at Southwest Auto Collection support all of our local sports teams, especially the Arkadelphia Badgers! We wish the Badgers the best of luck this season and can't wait to support them at the stadium in August! Go Badgers!